Fresno Camera Club
Digital Image Competition
Introduction
Digital images are judged as one (1) class, with the subject matter considered "Open" unless otherwise specified. Images may be of any subject in good taste, e.g. pictorial, nature, travel, scenic, portraits, human interest, photojournalism, or creative, including digitally enhanced. Club members can enter by email up to three (3) digital images that may be color or monochrome.
Digital File Requirements
File Format: JPEG, JPG (*.jpg) - REQUIRED
Color Space: sRGB (Recommended for best color rendering by digital projector)
Maximum file size: 1 Megabyte (MB) - Same as 1,000 KB
Image dimensions are limited to a max 1400 horizontal pixels, and max 1050 vertical pixels.

Digital Image Naming Standards
Sample naming of files for submitting three (3) images from "Percy Adams":
1_AdamsP_Monument Valley Mittens.jpg
2_AdamsP_Penguins Dancing.jpg
3_AdamsP_Tulips Soaking up Sun.jpg
Steps for file name construction:
<![if !supportLists]> 1. <![endif]> Start each digital file name with a different number 1, 2 or 3, followed by underscore
<![if !supportLists]> 2. <![endif]> Maker's Last name and First initial, Uppercase/Lowercase followed by underscore
<![if !supportLists]> 3. <![endif]> Image Title, Upper/Lower case, max 30 characters with words separated by spaces and no special characters (Title as it would appear in the newsletter or on an award)
<![if !supportLists]> 4. <![endif]> File Extension .jpg ( take care to avoid the ".jpg.jpg" situation)
Email image files as attachments to the Digital Chairman at fresnocameraclub.digital@gmail.com.
Images are due to the Digital Chairman no later than seven (7) days before the competition day.
Images are entered "as is" with no remediation by the Digital Chairman.
Format for Email Submission (see sample email below)
Subject: [First and Last Name] FCC [Month Year] Digital Entries
(Ex: Percy Adams FCC February 2016 Digital Entries)
Attachments: Included images as three (3) attachments to your email, do not embed images within the email (results are unpredictable and often result in lost images).
Body of Email: Indicate number of images submitted.
SAMPLE Email (look will vary for different types of emails)
<![if !vml]>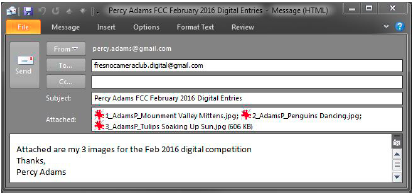 <![endif]>
Complete Guidelines Revised 2016